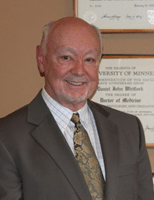 Dan Whitlock, MD, MBA, was vice president of medical affairs at a large health system in Minnesota, where he partnered with VITAL WorkLife™ to implement a supportive solution for medical staff physicians and their families.
After retiring, Dr. Whitlock worked with hospital and health system administrations and medical staffs in Asia, the Middle East and Europe regarding quality, patient safety and medical staff processes as a consultant with an international accreditation organization.
Dr. Whitlock received his medical degree from the University of Minnesota Medical School in Minneapolis. He completed his residency at Case Western Reserve University in Cleveland and a fellowship in pediatric nephrology at the University of California in San Francisco. Dr. Whitlock received an MBA from the University of Minnesota Carlson School of Business.
Dr. Whitlock is a physician consultant and member of the Advisory Team for VITAL WorkLife, a national behavioral consulting company with providers in every major city and wide-ranging expertise in every aspect of behavioral health. VITAL WorkLife is the only company today providing healthcare organizations and practitioners easy access to the help they need. Dedicated teams of experienced medical and behavioral health professionals understand the unique needs of doctors and their families, and deliver the services needed to help overcome work and life challenges.