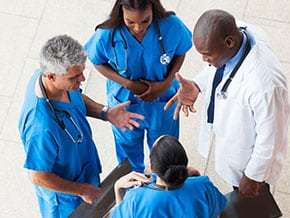 There has been a lot of attention on physician well being and the impact of stress and burnout. According to the Physician Stress and Burnout Survey Report, a national survey of over 2,000 physicians, stress and burnout is increasing. Almost 66% of respondents say they are more stressed than in 2011, 88% moderately to severely stressed and over 46% specified severely stressed.
The reality is this increased stress impacts both the professional and personal lives of physicians and providers.
We help physicians and Providers with Proactive & Preventive Solutions
Our comprehensive suite of solutions designed specifically for physicians, helps mitigate the effects of stress and burnout and allows for better work/life integration. Our proactive and preventive solutions for physicians include:
To learn more call us at 877.731.3949 or contact us via our online form.
About VITAL WorkLife
We help organizations, teams and individuals to be their best.
VITAL WorkLife, Inc. is a national behavioral health consulting practice supporting all dimensions of well being in the workplace. For over 35 years, our proven solutions have helped to reduce workplace conflict, facilitate culture change, strengthen interpersonal communication and build well being. We offer unique solutions including confidential preventative support for physicians and providers, customized consulting, behavioral intervention programs, peer coaching, education, critical incident resources and robust employee assistance programs.
Our comprehensive framework identifies the right combination of programs and tools to meet varying client needs. We focus on a holistic approach to six dimensions of well being – physical, emotional, relational, professional, spiritual and financial/legal. Working closely with individuals while also guiding teams, we help build healthy, sustainable behaviors for productive organizations.