We help organizations, teams and individuals to be their best.
VITAL WorkLife, Inc. is a national behavioral health consulting practice supporting all dimensions of well being in the workplace. For over 35 years, our proven solutions have helped to reduce workplace conflict, facilitate culture change, strengthen interpersonal communication and build well being. We offer unique solutions including confidential preventative support for physicians and providers, customized consulting, behavioral intervention programs, peer coaching, education, critical incident resources and robust employee assistance programs.
Our comprehensive framework identifies the right combination of programs and tools to meet varying client needs. We focus on a holistic approach to six dimensions of well being – physical, emotional, relational, professional, spiritual and financial/legal. Working closely with individuals while also guiding teams, we help build healthy, sustainable behaviors for productive organizations.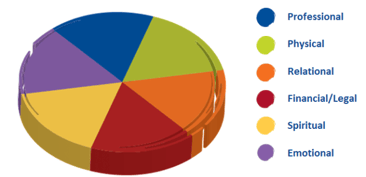 Our Approach
We partner with organizations, employees and families to create sustainable "Pathways to Well Being."
At VITAL WorkLife, we believe overall well being is essential to satisfaction in one's work and personal life. We use the Wheel of Well Being as a framework to evaluate and holistically develop Pathways to Well Being. Each dimension has an impact on our well being. By assessing and making improvements in each key dimension, we are able to improve our overall well being.
While the path is sometimes challenging, with unexpected twists and turns, the journey is easier with careful guidance from our empathetic, experienced behavioral health counselors, consultants and coaches.

Our Brand
In everything we do, we are focused on not only effectively meeting the needs of our customers, but exceeding their expectations through the expertise we bring and the professionalism with which we provide our solutions.
We have chosen the traditional and strong color BLUE to illustrate our focus on the healthcare market. The bright, vibrant GREEN denotes life, freshness and health.
The color blue in the word VITAL draws your eye to the figure, strong, fit and on the move—taking action for well being. The figure is friendly, inviting and has arms wide stretched, also indicating balance and an embrace of life… life that is healthy and lived to the fullest extent.
The circle, a symbol of life, is simple, complete and symmetrical. Our circle shows movement, it is dynamic. Our circle is not dark or like a tunnel, it is light and optimistic—representing the organization or community of which the figure is a part.