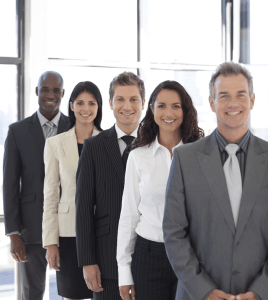 When employees get sick, you expect them to visit their doctor — and you probably provide insurance for that purpose. On the other hand, when your employees are facing emotional, relationship, family, legal or financial problems, what do you do?
A well-designed Employee Assistance Program (EAP) is a proactive business tool that can help your employees face and overcome life's challenges — while at the same time reducing absenteeism, increasing retention, saving money, controlling costs and increasing employee productivity.
At VITAL WorkLife, we also make in-depth behavioral expertise available to your organization's management and line supervisors in order to help you strengthen your leadership, enhance your work environment and grow your business.
Mental and Behavioral Health Issues
Estimating the Prevalence and Costs
Left undiagnosed and untreated, mental illness has a significant negative impact on workplace productivity. Here are just a few of the statistics:
Approximately 11 million U.S. adults (4.8 percent) had serious mental illness (SMI) in 2009
One in five workers suffer from a mental illness such as depression or anxiety and these conditions increasingly affect productivity in the workplace as many struggle to cope (Organization for Economic Co-operation and Development, 2011)
The cost of depression to U.S. employers is more than $44 billion each year in lost productivity — 81 percent due to reduced performance while at work. (World Health Organization, 2012)
In 2011, 15% of disabled workers receiving Social Security Benefits fell in the "mood disorder" diagnostic group — second only to skeletal muscular disorders (29%)
Mental illness alone will account for 35% of the global lost output over the next two decades (Harvard School of Public Health, 2011)
When the depression is co-morbid with another disabling condition, disability durations are 30% longer than the control group. (Integrated Benefits Institute, 2009)
The Journal of the American Medical Association (JAMA) estimates that as many as 8.4 hours are lost per employee per week as a result of major depression. That's 26 lost work days per year, versus 17 days for cancer. When depression is effectively treated, absenteeism is reduced 12 days per year.
Additionally, more than one quarter of adults with serious mental illness also had co-occurring substance dependence or abuse in 2009. In 2011, the Centers for Disease Control released a study on the costs of alcohol abuse in 2006. It revealed:
Total annual costs of $223.5 billion
More than 72% of those costs were attributed to lost productivity
Costs associated with alcohol-related illnesses were 11%
Quantifying the Value of EAP Services
Reduced Costs & Improved Lives
Given the size of the problem, how much can an EAP help? Here's what studies indicate:
Counseling interventions have been found to reduce absence rates in clients by up to 60% (John McLeod, 2010)
In another study, heavy drinking (i.e., having five or more drinks on the same occasion, on 5 or more days in the past month) declined by about one half and the number of work-related problem areas declined by one third among young restaurant workers who participated in a program for prevention and early intervention. (Broome and Bennett, 2011)
EAPs can play a critical role in helping families cope with mental health issues, by providing employees and their families a readily accessible, confidential, no-cost professional support system.
According to research from the Department of Health and Human Resources, companies with EAPs in place have, on average, 21% lower rates of absenteeism and 14% higher productivity rates.
And, in a landmark study, the Northwestern National Life Insurance Company noted, "Providing an Employee Assistance Program is one of the top ten actions an organization can take to reduce the potential for workplace violence."
EAP Case Studies
In a randomized, controlled trial of its Work and Health Initiative (WHI) program conducted by the State of Maine in 2011, 79 state employees were screened for depression and at-work limitations. Participants who agreed to participate in the 8-week program were provided with multi-component work-focused care that included weekly counseling over the phone.
Findings published in the Journal of Occupational and Environmental Medicine indicate that the WHI program has had moderate to large positive effects on multiple indicators of functioning including:
At-work performance
At-work productivity loss
Work absences
Productivity loss due to missed work time
In addition to having a large effect on depression symptom severity, the WHI has also produced productivity cost savings of $6041.70 per participant annually.
In "The EAP Buyer's Guide," created for the Employee Assistance Professionals Association, Donald G. Jorgensen, PhD, CEAP, describes how EAPs have demonstrated their effectiveness at the following companies:
Chevron has recognized savings of $50,000 per case from reduced turnover due to EAP use. Chevron also reported, "Employee performance improved 50% following a supervisor referral to the EAP."
An Abbott Laboratories study reported a 6-to-1 return on dollars spent for the EAP, and noted that the average employee who utilized the EAP spent $10,000 less for inpatient medical costs than employees who didn't use EAP services over a three-year period.
Virginia Power reported a 23% reduction in medical costs for employees using the EAP.
Campbell Soup Company saved 28% in mental health costs using its EAP.
At Caterpillar Inc., the company's use of intensive case management and EAP intervention:
Reduced the number of psychiatric disability cases by 29%
Decreased the proportion of disability cases for psychiatric conditions from 33% to 8.1% (management employees)
Reduced the average lost work time for psychiatric disability 44% — from 58 to 32.6 days per case
Caterpillar's total projected cost savings in 18 months equated to $3,575,349.
For more information please Contact Us.