VITAL WorkLife Mobile App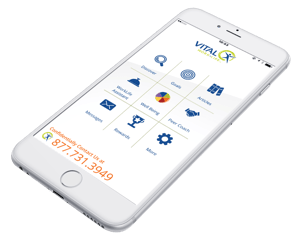 We care about the well being of the physicians, providers, advanced practitioners and healthcare staff we support with Physician Well Being Resources. As busy medical professionals, you are challenged to manage the many unique factors impacting your life.
VITAL WorkLife Mobile lets you take charge!
Available for free to our Physician Well Being Resources clients, VITAL WorkLife Mobile is designed to help you improve your personal and professional life and to easily access your VITAL WorkLife resources whenever—and wherever—they are needed.
VITAL WorkLife Mobile offers innovative, effective ways to help individuals face their unique well being challenges.

VITAL WorkLife Mobile helps you:
Discover your well being with assessments for each dimension of your life.


Physical, Professional, Relational, Financial/Legal, Spiritual and Emotional.

Explore recommended next steps, based on assessment results. Take next steps toward well being with a variety of suggestions and activities.
Establish personal well being goals with reminders to stay on track.
Learn and sustain healthy habits with timely insights and videos.
Connect with important benefits, such as Peer Coaching and WorkLife Assistant.
See a list of 25 things your WorkLife Assistant can do to help.
Practice mindfulness with tools and resources to help reduce stress and improve well being.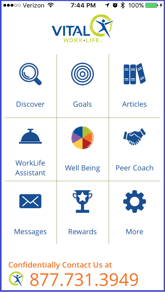 Access Well Being Tools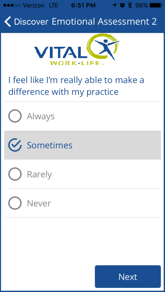 Discover Your Level of Well Being
Set Personal Goals
If your organization is a Physician Well Being Resources client, you can download VITAL WorkLife Mobile from the App Store or Google Play. Login with your Username and Password to begin using the App right away.
If you are not a Physician Well Being Resources client and would like to learn more about our proactive, supportive behavioral health solutions or would like a demo of the App, give us a call at 877.731.3949.